The Bull Arab is a dog bred in Australia. They are also known as Australian Pig Dogs. Mike Hodgens was a dog breeder who wanted a dog that was good at hunting. The ideal characteristics he required in the dog were strength, agility, athleticism and a good scent tracking ability. He achieved the same by crossing various breeds. The resultant breed was named Bull Arab.
Bull Arabs have a gene pool acquired from multiple dog breeds. Half of their traits have been inherited from Bull Terrier along with the Greyhound, and German Short Haired Pointer also contributing. Some dogs might also have ancestral lineage in English Pointer, Blood Hound and Saluki breeds.  The breed has been developed pretty recently and is still not officially recognized by majority of the recognition bodies in the world. It is a hunting dog and was developed to hunt wild pigs and animals.
Bull Arab Dog Facts For Kids and Information
The Bull Arab is a breed native to Australia
It is a resultant of cross breeding of several different breeds
The dog is famous for being one of the best hunters in Australia
International bodies do not yet recognize the breed as separate and purebred
The dog is relatively healthy due to the vast gene pool it has inherited
Loyalty towards family and friendliness around children makes it good family dog
The Bull Arab requires a very active lifestyle and enough physical stimulus
The dog has strong predator instincts and will chase small animals around
Obedience training and socialization of the dog is required throughout its life
Puppy Price: Average $300 – $400 USD.
Diet
The Bull Arab has a medium to large size body build. They are very active dogs and need to build up their strength for hunts. The dog's diet should be of good quality and consist of meats and eggs and dry kibble. The diet should contain adequate amount of nutrients especially calcium for growing dogs.
Habitat
The breed of Bull Arabs is primarily a hunter. The dogs require an open space where they can be active physically to ensure proper growth. The dog has a short coat and does well in hot and humid conditions though breeds of colder areas may have an undercoat present. In extreme cold conditions, it must be ensured that the dog is kept warm.
Lifestyle
The Bull Arab requires a very active lifestyle. The breed is a working class of dogs and is meant to accompany hunters on the hunts. They are ideally suited to an environment that occupies them with work. If the dog is being raised in an urban environment, it requires daily exercise or some form of physical stimulus to channelize their energy and stamina.
These dogs are not meant for apartments and are best raised in houses that have open some form of open space. Lack of physical activity may encourage destructive tendencies in these dogs. An individual having a sedentary lifestyle should not adopt these dogs.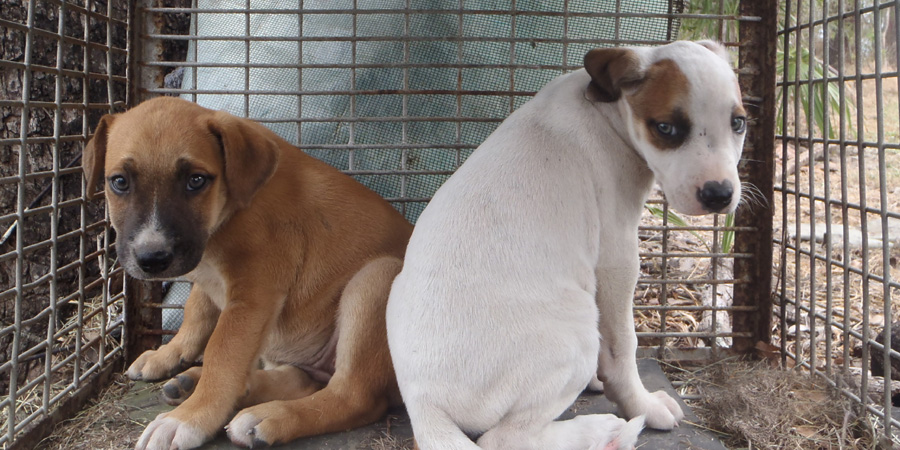 Predators
Being bred specifically for hunting, these dogs have high prey drive. They have heightened scent tracking ability along with physical strength and agility making them excellent at hunts. Around other animals, the dog should always be supervised. The dog requires active socialization throughout the life beginning from an early age. A well-trained Bull Arab will always be obedient and under the command of its owner.
Bull Arab Breeding
The Bull Arab has been developed by cross breeding of multiple breeds. Different lines might have different characteristics depending on the breeder. Some of these may have some part of Blood Hounds in them while others may not. The purpose behind the breeding is to get speed, strength, stamina and superior scent tracking in one package.
Their scrutinized breeding has resulted in the Bull Arab being considered as one of the best hunting breeds. The litter size of the female is generally around 7 to 9 puppies.
Bull Arab Dog Appearance
The Bull Arab is the perfect epitome of strength and agility. It has a proportionate and well-balanced body structure. The dog has a medium to large build. The head is neither too narrow nor too broad with a power packing muzzle, shining eyes matching the coat color and medium length ears.
The body and the legs are muscular and relative to the head size. The tail narrows towards the tip. The soft and lustrous coat has a variety of colors including black, brindle, silver, tan and many more with white or light spots or patches. An undercoat may be present in breeds of cold areas.
The height and weight of the dogs may vary on their lineage but they generally have following weight
Height – Males:  25 to 27 inches (63 – 69 cm); Females: 24 to 26 inches (60 – 66 cm)
Weight – Males: 70- 93 lbs. (32 – 42 kg); Females: 65 – 90 lbs. (28 – 41 kg)
Life Span
The Bull Arab has a higher life expectancy as compared to other breeds of similar size. They may live anywhere from 12 to 15 years.
Bull Arab Health Issues & History
The Bull Arab has been bred from multiple dog breeds. It has been derived from a vast gene pool.  The wider gene pool ensures that the dog has as few genetic problems as possible. Good breeding techniques and scrutinized breeding based on the traits exhibited by a generation helps to lower genetic diseases. Also, being a relatively new breed and an unrecognized one at that, there is also a lack of research on the breeds health issues. The dog is generally considered to be healthy and routine vaccinations and checkups can help to maintain optimum health.
Grooming
The Bull Arab dog breed is pretty easy and low maintenance one. The dog has a short and soft coat with some of them occasionally having an undercoat too. Brushing occasionally once a week will be more than enough. The dog should only be bathed when there is a need for the same. There is no need for visit to a professional groomer.
Shedding
The dog is a seasonal shedder. Having a short and fine undercoat, the dog in the shedding season is not that big of an inconvenience.
Behavior, Temperament & Personality
The breeding of Bull Arab is done to develop a breed that is both a great hunter but also calm and composed. The Bull Arab is extremely loyal to its family and also does well around kids. However, their strong sense of smell combined with their hunting instinct may lead to them chasing small animals.
The dog may be wary and aggressive towards strangers and should be supervised if left unleashed. To ensure that the dog is in check, obedience training and socialization from an early age is compulsory. The dog requires a firm hand to control them and an individual must not allow the dog to dominate them. They are quite playful and also great as watchdogs as well as search and rescue dogs.
Bull Arab Characteristics
Adaptability : 4/5
The dog can adapt to a wide range of conditions.
Dog Friendly : 3/5
The dog may try to dominate other dogs but is overall fine with them.
Shedding Level : 2/5
The dog is a seasonal shedder but its small coat makes it easier to bear them.
Affection Level : 4/5
The dog is loyal and fond of its family
Exercise Needs : 5/5
The dog being hunter and having high energy requires an active lifestyle.
Social Needs : 5/5
The dog needs to be socialized throughout life with both animals and people.
Apartment Friendly : 1/5
The dog requires a yard or an open space to do well.
Grooming  : 1/5
The dog is quite easy to maintain and has no specific grooming requirements.
Stranger Friendly : 2/5
The dog might be aggressive towards strangers
Barking Tendencies : 3/5
The dog is relatively calm and barks only if there is a cause to.
Health Issues : 2/5
The dog has very few known health issues.
Territorial : 3/5
The dog loves to guard its territory but may chase after target for long distances.
Intelligence : 4/5
The dog is quite intelligent and can be obedient.
Trainability : 3/5
The dogs has a need to be trained from an early age.
Child Friendly : 4/5
The dog is friendly towards the children of the household
Playfulness : 3/5
The dog likes playing with his family.
Watchdog Ability : 4/5
The dog is good for guarding.